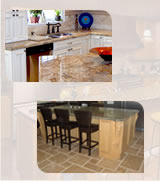 Welcome to our site
JMJ Marble and Granite invite the Consumer, Architect, Builder, Cabinetmaker, and Designer to view the many wonderful range of both marble and granite stone. With attention to detail and aesthetics JMJ Marble and Granite craft exquisite and unique slabs of stone to create timeless surfaces for interior and exterior spaces. Amalgamating the very latest technology, machinery and skilled tradesmen ensures the delivery of high quality finished products that convey everlasting luxury and style.
New Marble and Granite
JMJ Granite and Marble has many style and colours available for every need.

Special
under-mount kitchen sink from $199
countertop for $45 Sq ft
Counter top starting from $45.00 per sqt
Silmen Fine Cabinetry will guarantee the best quality of workmanship and will gain the confidence of our clients from the start of a project to its completion.